Happy New Year to all of our furfriends and their families!! We hope that you all have another year of happiness, health, love and peace!
We must apologize for not being on here that much over the last two weeks. Mom was on vacation during Christmas, and she got awfully lazy with our blogging, in fact, she didn't do all that much over vacation except cuddle with us every day (which we didn't mind at all!). She didn't do any blogging for us, she didn't look at anyone else's blogs, she even put her jewelry making on the back burner!!
Now that it is a New Year, we resolve to get her lazy butt in motion and get back in touch with our furfriends on here, we so missed you all. Please do not take offense if we haven't read your past blogs and made any nice comments, we are so woefully behind that we are just going to start new with 2010.
We trust that you all had a great Christmas and got lots of good presents from Santa Paws! We had a pawsome Christmas and Santa was very good to us! To leave off, here is our family picture taken on Christmas Day.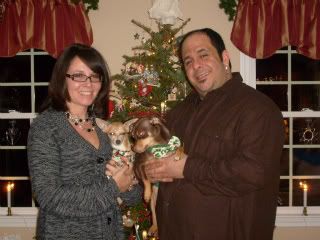 We love you all and look forward to another year with you!!!