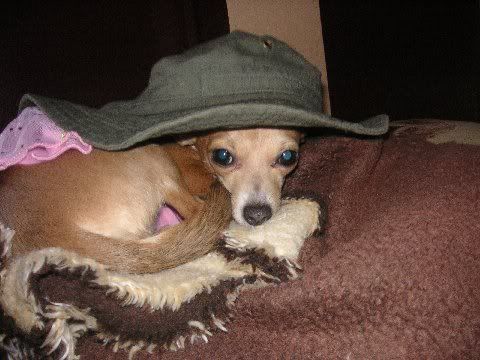 It all started the day Lilibell was to have been spayed. We dropped her off in the morning at the vet's and left thinking that everything would be okay and we would see her the next day (which made me extremely sad as I need both of my babies in bed with me to sleep and I would be sorely missing her!). Around 10:00 that morning, I got a call from her doctor saying that they were unable to go through with the surgery because, through her pre-op bloodwork, it was found that her liver enzymes were elevated. We were advised to make an appointment to get her bile acids tested. This news put me in a tizzy because they were talking about the possibility of a liver shunt!!!

Two weeks later, it was time for her bile acid test. I don't think she was a happy camper that day, as she had to fast for 12 hours first, get poked with a needle for some blood, eat something, then 2 hours later get poked again! When I came home from work, she was bouncing all over the place at the sight of me, so I know she wasn't mad at me, she was probably mad at her father as he was the one who brought her to the vets that morning! A couple of days later, the doctor called with the results, which were while her liver enzymes went slightly down, her bile acids (after eating) were elevated and we now needed to make an appointment for an ultrasound to see if she had a liver shunt. Now, at this point I'm panicking, thinking all sorts of bad case scenarios, such as major surgery to her liver! I did have the wonderful support of my dear friend Sue, whose little furbaby went through the exact same thing. Sue was such a lifesaver as I had someone to be able to ask questions to and compare what she went through to what we were going through. And I must mention Tiffany, as she was there with us from the start giving me much needed support!

The following day, I decided to become proactive and start doing my research into this. One of the things I did was join a liver shunt/MVD group on Yahoo, I knew that I would be able to get lots of advice on there and have my questions answered. Another thing I did was ask for the results of the bile acid test so I could look it over. After looking over the numbers, doing research and consulting with others whose dogs have the same problem, I started to relax and become much calmer. The range for the bile acid number, after eating, is between 0 and 15 and Lilibell's was 21. Which didn't really point to a liver shunt, dogs with numbers well over 100 usually have shunts. Anything below 100 usually means MVD, which can be managed through diet and supplements. We were still going to keep the appointment for her ultrasound though, just in case it showed something going on with her liver.

The day for her ultrasound came (this past Wednesday). Her father took her bright and early at 7:30 in the morning. Steve said that when he handed her over to one of the assistants, Lilibell took a flying leap right back onto Steve's chest.....I guess she's just about had it with the vets and being poked and prodded! Later on that morning the doctor called me with the results. While she does not have a liver shunt (Yay!!), her liver was on the small side. They are suggesting that she get a liver biopsy done. I have now been referred to an internal specialist who will take over her liver management from here on and also do her spaying. I put a call in to him this morning and now I'm just waiting for his return call so an appointment for a consultation can be made.

To Be Continued.......