Today is Chewy's Gotcha Day! Two years ago is when he came forever home to us, and I'll never forget that day.
Steve had been talking for the longest time, after his dog Ninook passed, about how he wanted to get another dog. I really wasn't thrilled with the idea....I never was a dog owner (having had cats all my life) and I really wasn't into the idea of the responsibility of a dog. We had a cat at the time, Phoebe, and it was just so easy having a cat! But as long as Steve got a small dog, I guess that was okay with me.
On that Saturday, he went online looking for a Chihuahua. He found one ad, but when he was sent the picture, it wasn't the one for him. Then he found another ad, and the picture he got was of the cutest little chocolate Chihuahua! He contacted the seller again, and told her we were interested. She asked us to come by the next day to see him.
On Sunday, we had to wait for the breeder to come home and call us. We waited all day for that call, and when she did finally call us, we were told that another couple was coming to look at the same pup, but they were travelling a farther distance than we were. We immediately dropped everything we were doing, jumped into the truck and raced the 20 miles to Fall River....we wanted to get there first! Now mind you, we really weren't expecting to take this particular pup and weren't expecting to bring him home that night. But once we got there, and took a look at him and held him, we knew that he was the one for us! So off we went, with a new addition to our family!
Because we weren't expecting to take a pup home that night, we were totally unprepared. It was getting close to 6:00, the time stores close up here on Sundays, so we needed to make another mad dash to Petco before they closed. We got there with 15 minutes to spare, and with Chewy wrapped up underneath my jacket, we bought a bed, toys, treats, food, bowls, leash, halter, and of course I had to get him his first sweater, lol!
When we got home, we got him all settled in and introduced him to his cat sister Phoebe. Chewy didn't mind Phoebe, as the breeder had cats of her own, but Phoebe was having nothing to do with this little ball of terror! (Phoebe eventually got used to him, but only
tolerated
him.) That night, both of us fought over who would hold him while we watched TV, haha! And when it was time for bed, since we didn't have a crate, we decided to use Phoebe's cat carrier, until we could get a proper crate. We went to bed, and Chewy started whining and crying. After about 10 minutes, Steve, the old softie, got up and brought Chewy to bed with us and that's where he's slept ever since.
Chewy's First Night at Home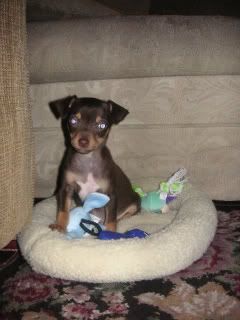 I so fell in love with this little Chocolate Chi, I hated going to work and leaving him, I missed him so much, but when Steve picked me up from work, he always had Chewy with him to greet me in the car. Chewy quickly became the apple of our eyes and we are so very grateful to have him as part of our family!