This whole ordeal started back in June, when Lilibell had an appointment to be spayed. You may have read about the ensuing problems here. After a month of being on Denamarin, her liver levels were finally down to normal and she got the go ahead for her surgery! I of course was, on the one hand, happy that the surgery could finally go forward, but on the other hand, it made me nervous and anxious all over again. As many of you can relate, I just hate the thought of one of my babies having to go through this, and was still a little worried that something might happen to her - because of her liver levels being out of whack, there were certain things she could not have in her anesthesia, and I started having all kinds of nightmares, such as what if she could feel pain during the surgery (yes, I have a

very

active imagination, lol!). The day of the surgery came, October 8. As I had to work, Steve was to drop her off at the vets bright and early that morning. My mind was scattered all over the place that morning from worry, Steve was the one who thought of bringing her blue sheep with her so she could have some comfort, and to also dress her in her warm pink hoodie. It was a very nerve wracking morning and early afternoon until I could call the vets at 2:00 to see how she made out. And what a relief it was to hear that she was okay and would be ready to be picked up 7:30 that night! We did have the option of having her stay overnight, but we decided to pick her up (I had the overwhelming need to have my baby back home with us and in my arms). We got to the vets and waited in a room until they gave her pain meds. The door opened.....and there was my little munchkin, with that ridiculous cone on, but with a smile on her face and her tail wagging a mile a minute (think she was happy to see us?!!).

Before we left home, I had already washed my face and got ready for the night, so the only thing I had to do when I got back home was change into my PJs. Once we were home, I settled us on the couch and Chewy came over to sniff his sister. I have to say that he was such a little angel, I had envisioned problems with him, such as wanting to play with her or being rough with her. But he sensed that she wasn't feeling good and contented himself with snuggling up with us.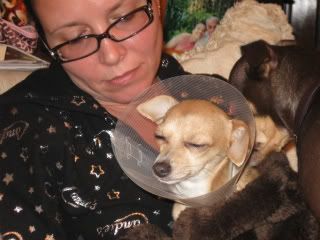 I took that ridiculous cone off of her so she could be comfortable and threw our faux fur throw over us so she could be warm. As we were sitting there, I could feel her quivering from the pain and hear her whimpering and that's when my tears started. I started questioning the wisdom of us bringing her home that night, and I felt so guilty for putting her through this ordeal and utterly helpless, until Steve pointed out the fact that she would've been in pain no matter where she was, and at least she was home in a familiar environment with us, instead of being alone in a cage.

Then I had to figure out where we would sleep that night. I didn't want us to sleep in bed because I wasn't sure if she would wake up and try to jump off the bed. Then I thought of making a bed for her on the floor beside my bed, but nixed that idea - I knew I would not be able to sleep and would be constantly leaning over to check on her throughout the night. I decided that we would sleep on the couch and needless to say, it was not a good night's sleep for me! I took the back cushions off the couch so we could have more room, which resulted in me being pressed up against the hard back; I had Chewy either between my legs or next to them, so I didn't really have much leg room; and I had Lilibell on the side of me next to my stomach. During the night, every time I needed to turn over, I woke up so that I could turn over carefully and not jostle Lilibell. And even though she was right beside me, I still checked on her throughout the night, making sure she was still breathing!

The next day I had taken a personal day, and Lilibell spent the whole day sleeping on my stomach, except for when she got up to pee and eat a little.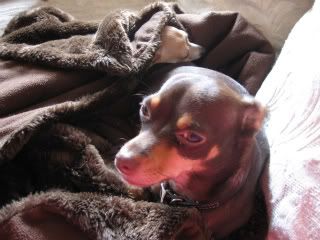 Saturday she basically slept the whole day, but ate a little more than Friday, and by Sunday she was finally starting to get back to herself. I decided to take her out a bit for our neighborhood Columbus Day Feast and to get some air. By Monday, she was fully back to her normal bubbly self!

All I can say is "whew" thank goodness this is all done and over with!!