When Steve's nephews, Harry and Nathan, got older, he started a yearly tradition with them - pumpkin carving! Steve would buy the biggest pumpkin he could find and carve it with the little ones, they always look forward to their Uncle Steve carving the pumpkin for them! This year, since it was a gorgeous fall day out, I decided to dress the kids up in the new Thanksgiving outfits and hopefully get some good pictures of them out among the leaves at their Auntie Lori's house.

Before we left home, I tried my best to get a picture of the two of them together. Chewy was wonderful, he sat patiently on the couch while I snapped away,


but when I tried to get Lilibell to sit next to her brother, every time I was ready to snap the picture, up she would go running off to the other couch. So this was the best I could do for her picture!



One of the members on the Chi forum I belong to makes dresses and vests, and she made just the cutest vest for Chewy, don't you just love the little bow tie!!



Almost time to go and out comes Lilibell's favorite carrier, her VB (Vintage Bitch) bag, made by another member of the forum. Every single time Lilibell sees her Bag come out, she comes racing to it and jumps right into it. I think it's because she knows that when the bag comes out, she's off on another adventure!!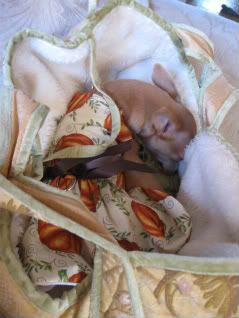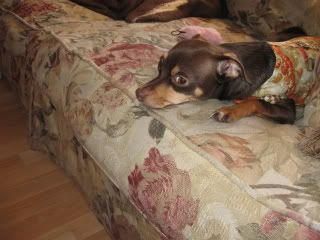 Yes, Chewy is pouting in this one. I think he was thinking that they were going to be left behind while the parents went out and had their fun!! (I usually stay home most Saturday nights, but the night before I did a rare night out with Steve. I don't think Chewy was happy with us at all, because when we came home there was poop on the bathroom rug, which has not happened in a very, very long time (and I know it was Chewy's!). Also, at the couple's house that we went too, they had an extremely horny dog, who kept licking my feet (he has a foot fetish), and when we got home, Chewy nosed right in on my feet, smelling the other male dog. He did not like that at all and promptly went over to their playbed and peed right on it!)

And we're off!


Chewy loves looking out the window, while Lilibell is content just to lay in her bag.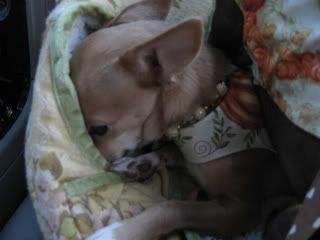 At this time of the year in New England, we always have gorgeous colors on our trees. While driving to Lori's house, I was trying to get pictures of the colors, but since we had, two Saturdays in a row, big rain storms with high winds, a lot of the trees had lost their leaves. Also, it's not really peak season yet for us in the lower half of New England, I think in 2 more weeks it will be, barring any major storms that may come our way!
<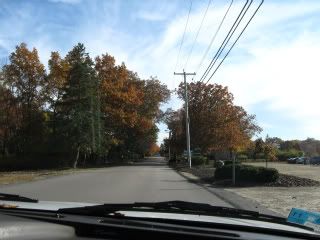 Once we arrived at Lori's, I let the kids run around in the yard before going in the house, hoping they would burn off some energy.
Chewy I can let run around off leash, as he listens very well to me and I have no fear of him escaping. Miss Lilibell, on the other hand, needs to be on leash, as she likes to squeeze between the fence posts to freedom. I had wanted to get a picture of the two of them together, but I don't think that's going to happen, I'm best off cropping the two of them separately and putting it into a background, haha!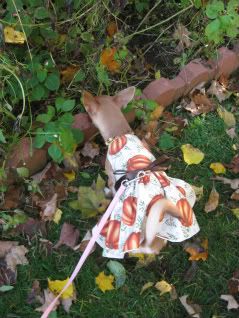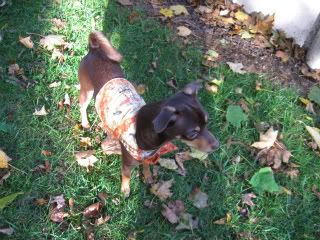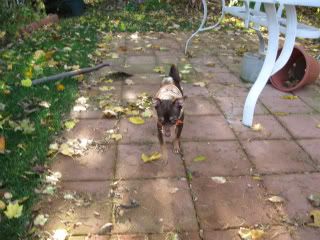 The end result of the pumpkin carving!! Steve always looks to Nathan's guidance as to what kind of face to carve. And of course, the pumpkin seeds were roasted by Richard and were delicious!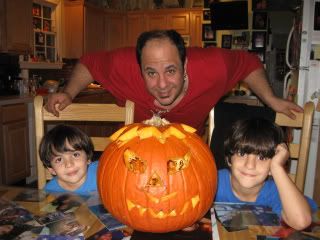 My three munchkins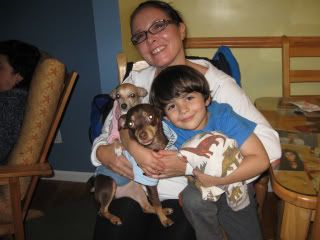 It is always a tiring day when they go to their Auntie Lori's, no time for naps for them, they are too busy investigating, playing with the little hoomans, and running around the yard and they always pass out cold on the ride home. But it's always a fun time for all of us when we go to Auntie Lori's house!