There are many, many toys in our house, sometimes the floor is literally littered with toys

(memo to self: teach them to pick up after themselves)

. Toys can be found in the living room, in the bathroom, in the kitchen, in the bedroom and even in my dressing room. There are toys that they never play with, toys that get played with occasionally, toys that are dragged out of the archives, toys that get played with on a daily basis and then.......there are their favorite toys.

Chewy's favorite toy is his red bone. This bone was once attached to another toy, which subsequently got torn off from too much wild play and slinging around and thrown away, except for the red bone. Chewy has a love affair with this red bone......he carries it around the house and even makes a point to bring it to bed with him (not to play with, just to be there beside him while he sleeps!). There was one time, as we were getting into bed, Chewy jumped off of the bed and disappears. Hmmmmmm, what could he be doing? I hear him scurrying around in the kitchen, scurrying around in the living room, and when he came back to bed, he was not alone.....there was the red bone, which he gently laid on the bed, then disappeared underneath the covers to fall asleep. The red bone, every so often, goes MIA (which is where it's at at the moment) until the day it miraculously reappears into Chewy's life, to last until the next time it takes off.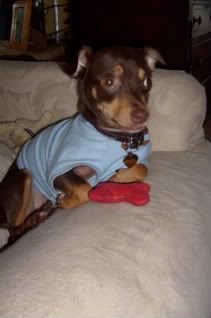 Lilibell's favorite toy is her Blue Sheep, which has been her favorite ever since she was little. This poor sheep has just about had it, it has been through the washer so many times and has gotten quite ratty looking from being carried around the house in her mouth. I just don't have the heart to get rid of it on her and get her a new one.....a new one just would not be the same Blue Sheep for her. Blue Sheep never goes MIA, Miss Lilibell always makes sure of its whereabouts in the house. Last night, as we settled into bed and I was getting into a good book, Lilibell got into a playful mood and jumped off the bed. When she came back in, there was Blue Sheep in her mouth. I picked her up and put her into bed along with Blue Sheep. When she went under the covers, I threw Blue Sheep off the bed.....BIG MISTAKE!! Lilibell went frantic looking for Blue Sheep, found the poor thing lying on the floor, and then jumped off the bed to rescue Blue Sheep and bring him back. And there was Blue Sheep for the rest of the night, in bed with us.