And came home with

another

package for us!!



Treats from Three Dog Bakery, woo hoo!!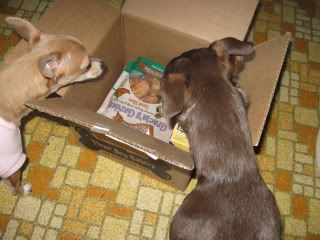 Mom found out about Three Dog Bakery through Jemma's post about the bakery. Mom learned that all treats made at the Bakery are all natural, made with premium ingredients, such as wheat flour, honey, oatmeal, peanuts....you get the picture. Best part is is that they don't use

any

artificial ingredients or chemicals.

On the advice of Jemma, Mom ordered for us


Peanut butter, vanilla and carob cookies, all in a delightfully small size for us itty bitty pooches!

And...


Carrots!!! We just loooove carrots, and guess what....that's the only ingredient....it's all pure, dehydrated carrots!

There are so many other delicious nummy treats at the Bakery, such as apple and oatmeal cookies, dried apples, dried bananas, cheese treats, (oh dog, I am drooling right now), but we need to finish these first before we can try the others.

Mom, really, you've just got to stop spoiling us.......just kidding!! Keep up on the spoiling!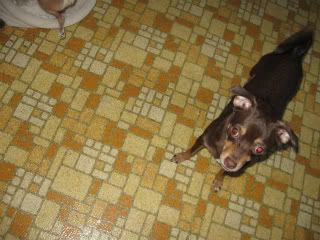 (Note from Mom, I did not receive these treats for free, to review them. I am passionate about the quality of food and treats that Chewy & Lilibell eat, and when I find a great product, I am always eager to share the information and product with others!)