Hello everyone, Lilibell here!! Today is Award Thursday, as we've been blessed with not 1, but 2 awards!!

First up, is my Pearl Award from my lovely cousin Coco of Love Being a Chihuahua!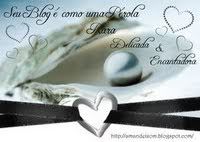 This award says
"your blog is like a pearl, rare, delicate and charming"

Awww, Coco, are you saying that I'm like a pearl....rare, delicate and charming?? Because I know you are not talking about my brother Chewy...he is far from delicate, BOL!!!

But thank you my cousin, I feel so very special today!!

I'd like to pass this award on to all of the other princesses out there.....
the first one I'm bestowing this award upon is Twix of A Wiener Dog Blog . Miss Twix has been sick lately, but she is doing much better now, and maybe this award will make her even more better and feel like the princess she is!! (plus, Mom is just sooooo in love with cutie pie Twix!)

Next up, our new friends from over that big pond, the English Princesses Dinah & Bridget of Dip Dip and the Bridge (don't you just love the name of their blog!!) They are little fashion princesses just like I am, and if we ever met up to go shopping, we'd all be in big, big trouble, BOL!

Izabella of Chihuahua Caliente also gets the Pearl award. She is the cutest Chi (besides me, BOL!!) and Mom just looooves her little pink tongue.

And can't forget our Scottish sister Honey of The Scottish Chi Tails. I think she deserves it as she lives with 2! pesky brothers and one of them, Romeo, looks like Chewy. If he looks like Chewy, he has to be another Chewy, and that means lots of headaches for Honey, BOL! (Sister, I feel for ya!)

Also, I am passing this award on to Mollie Jo of Dog Eared because she is a very curly country princess! And also to Bijou of One Puppy's Life. She has the most awesome ears, big like mine!! Bijou, can you hear me??? I can hear you!

And I can't forget my very favorite cousin Lexi of Munchkin Memoirs! I know she already had this award given to her, but I'm giving it to her again because she is my favorite cousin and such a southern belle/princess!

Coco, once again, thank you for this award!! We MUST get together one of these days and go shopping, I know we would have so much fun (and do a lot of damage to our Moms' wallets, but hey, we are princesses and that's what we do, BOL!)

The next award that we got, the Awesome Pawsome Award, came from our Auntie Tiffany and cousins Bentley and Lexi! We just love our Auntie Tiffany, she is our favorite Auntie, besides our Aunties Sue, Lilian, Mandy and Lori!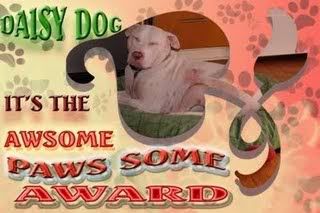 Here are the rules:

1. Put the award on your blog and link to who gave it to you.
2. Give a nod to the
Purple Hatter
who made the award.
3. Give the award to at least 5 of your blogging buddies who blog at least once a week.

I'm going to remember the boys now, so they don't feel left out in not getting an award! So, the award is going to the following cute boys!
1. Studd of Studd Muffin - Enough Said. We've been friends for a long time now!
2. Our new friend Sparky of Sparky's Pooping Grounds. Hey Sparky, you a pooper like my bro?? BOL!!
3. Bobo, another cute curly poodle!!
4. Checkers of Checkers the Peek-A-Poo. He has a small liver like I do, so yes, he definitely deserves this award!
5. And can't forget cutie Draco of Dragon Time Chihuahua!!


MUAAHHHHHH to all of my very special friends!