Hello furfriends! We just wanted to let you all know that Mom is on vacation this week, so we will not be around that much. Butt we have caught up on everyone's blogs to today and hopefully at some point this week we will try to catch up again. Please don't be offended if we don't leave a comment on your blog....we will read all of them butt as we have so many friends that it would be hard to leave a comment on everyone's, especially if we have a lot of catching up to do!
We don't have a lot planned for Mom's vacation as we're having a heat wave up here and it's just way too hot to do anything outside. The weatherlady said that with the humidity the heat index is going to be over 100!! We have to say that there is one disadvantage to living in the city as all the buildings and concrete just capture the heat and it feels like you're walking into an oven when you go outside, BOL! Mom said it's even too hot to go to the beach. So we're just going to spend time with Mom in the AC and snoopervise her as she gets caught up on her sewing and jewelry making.
Butt, we did have a good 3rd of July over at Granma's house!
Here's our Auntie Suzanne. We had a lot of fun going for walks with her around the yard and up and down the street and we got lots of petting and lovin from her.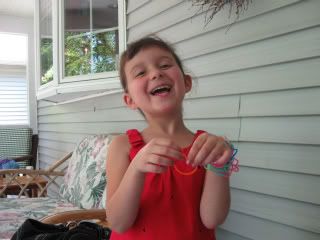 Granma, Chewy's in da house, let's get this pawty started!!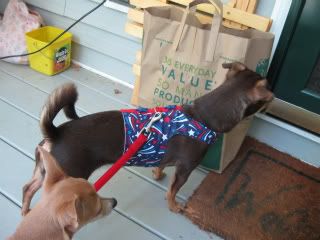 Like my Fourth of July vest? Yes, Mom made it. She's thinking about going into business selling her outfits as we think she does a pawsome job on them!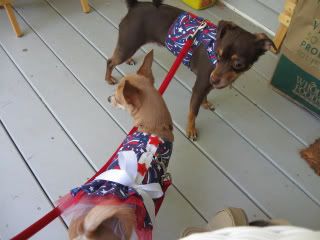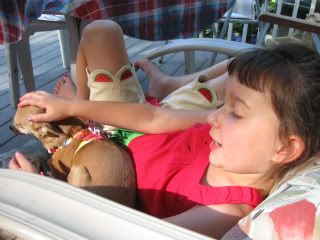 And Twix, to answer your question, yes, Mom did make me a red, white and blue necklace to go with my dress!
Then on the Fourth, Mom and Dad decided to take a day for themselves and spent it on Block Island. For those of you who have never heard of Block Island, it's a small island off the coast of Rhode Island. You need to take a ferry to get there, which takes about an hour. We said it was okay for them to go because we needed to relax after our busy day at Granma's.
This is them on the ferry going over there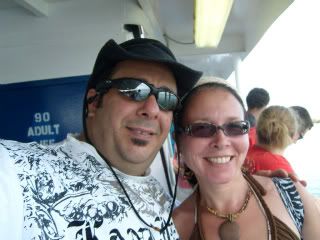 And this is Block Island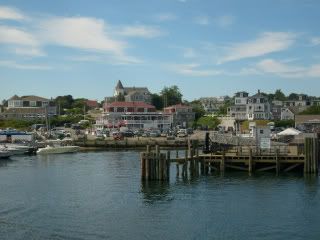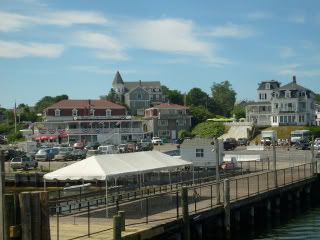 Mom said that she rushed back home because she knew there were fireworks going off in the neighborhood and she knows how much fireworks makes us nervous and anxious. Rhode Island just passed a law making non-aerial fireworks legal, which meant that there were lots and lots of fireworks going off!! We are so glad the Fourth is all done with because now it will be a lot quieter around here!
So furfriends, we hope you all have a great week and we'll see you soon!!