When we went to bed last night, all was quiet outside and normal. When we got up this morning, this was our world: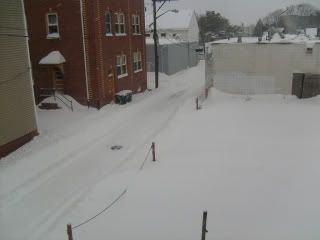 Snow!! And lots of it! While we were sleeping, a BIG storm came and dumped 16"!! of this cold, wet white stuff all over our 'hood! And you know what our evil parents did to us? Yep, they MADE us go out in it!
Yeah, okay Mom, we are so not happy about this, but we are ready.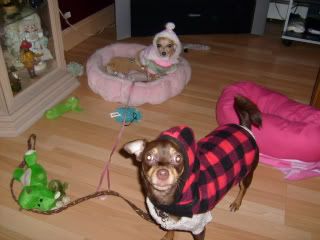 Oh my doG, it was so cold out there! Mom made us walk down to the end of the street:
When we got to the end, that's when Miss Priss had had enough of the snow and started begging to be picked up. Me, I'm a dog now and can brave anything!!
Then we walked down to the other end of our street to see what Federal Hill looked like.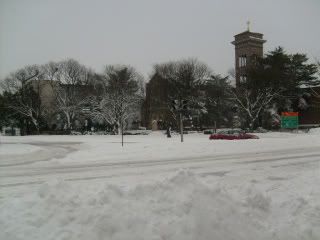 After that, Mom took pity on us and FINALLY brought us back into the warm house. Mom, we love ya, but if you ever get that bright idea again, we will not be happy dogs!!