Every day I leave for work at the same time and come home right around the same time too. Steve has told me in the past that the peanut heads always start to get antsy around 5:00, which is about 15 minutes before I arrive home. He says that they get up and start pacing around or will sit in front of the door. When I get to the front door, Chewy is the one who always hears me and will look out the window and start his happy whining and pawing on the screen, then I can hear Lilibell in the background starting on her high pitch whining bark.....when I open the door I'm greeted by two monkeys who are in a frenzy! Lilibell is dancing circles and jumping and Chewy's tail is going a mile a minute and then he starts jumping from couch to couch. Both of them won't settle down until I sit down and they can get in my lap to give me kisses!

In our living room, we have a bench underneath one of the windows that looks down the street and also onto our driveway.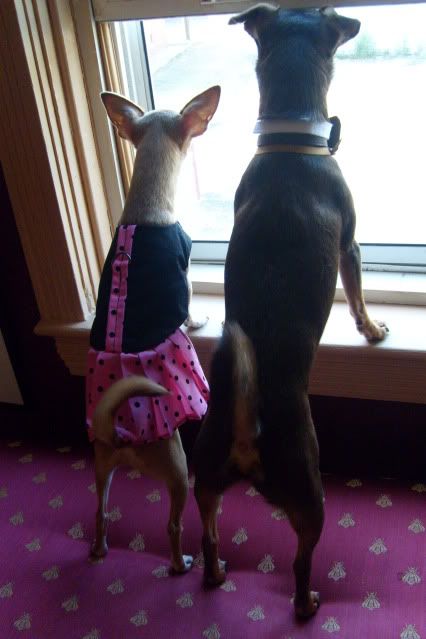 Chewy is the only one who is able to jump up on this bench. I usually approach the house from the opposite direction, but yesterday I approached it from this direction. As I got closer to the house, I could see through this window the top of Chewy's head and his ears. When I got to the driveway, I said "is that my Chewy?" and instantly his head popped up and he started his usual happy whining and barking. My Chewy, the sweet son that he is, was sitting on this bench waiting for me to come home! It was enough to just melt my heart!