Dear Furfriends, sorry we are so late with our St. Patrick's Day wishes, but we were waiting for a package from our Auntie Amanda over in Ireland that had our special St. Patrick's Day outfits, and it finally arrived yesterday!!

When Mom came home from work, she said that we were going on a little walk to meet Dad who was at this place that was just filled with bunches of two leggers! So we put on our outfits and headed out the door to meet Dad.


We felt just so special and in the spirit of the day prancing down the street in our new outfits! We finally arrived at the place, and boy, those two leggers.....they were CRAZY! Lots of noise, lots of hooman hands reaching out to pet us.....it was enough to make Chewy crrrrazy, BOL!! We didn't stay that long, just long enough for Mom to down this dark brown drink she had (Mom, that did not smell good at all, yech!!), and then it was back home.

Whew, those two leggers just tired me out!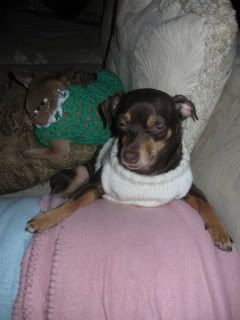 Also, Mom said that we were going to a special place tonight, but she won't tell us where. Her and Dad keep spelling something out every time they talk about it, but since we can't spell, we still have no idea.....it's something like V.E.T. Hmmmm, wonder what that spells out?? And she has these little plastic baggies that has our names on it
Said she needs to get our poops and put them in the bag. Mom, what the hell are you doing saving our poops?!
We are thinking that we are not going to like this surprise place at all, no way, no how!!!